/
/
Robotics
Last modified: December 13, 2019
Robotics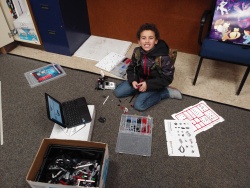 Who:  5th-6th graders
When:  Tuesday & Thursday
Time:  3:40-4:40
Where:  Room #19
Class Starts: January 23
Class ends:  March 26
Competition:  Saturday, March 28
Instructor:  Brian Richards
Students learn computational thinking and problem solving skills by working together as a team to design a robot, and then solve puzzles and challenges by programming their robot to complete specific tasks.  We will be using Lego Mindstorm EV3 kits.  During the fall semester the students will have time to familiarize themselves with the kits and learn how to design and program their robots through choosing projects and tasks to complete.  During the winter semester they will prepare for the Robotics competition sponsored by the Engineering Department at BYU.
Classes will start January 23 and will meet two days/week for ten weeks.
We are happy to welcome Brian Richards back this year as our robotics instructor.
"Hi, I am Brian Richards, a student at BYU studying mechanical engineering. I am originally from Ft. Lauderdale, FL. I have always loved engineering and robotics and I love teaching others about these subjects. My goal is to help all the students in our class experience the joy of seeing their ideas come to life."