/
/
/
STEM Science
Last modified: March 1, 2019
STEM Science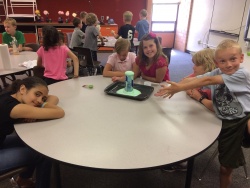 Who: 1st-6th Grades
When:  Wednesday
Time:  3:40-4:40
Where:  Room #20
Cost: $80/semester (Jan-Apr) Monthly payment plans are available-4 monthly payments of $20/month.
Class Starts:  Jan. 16
Class Ends:  
Our STEM Science class is a fun, engaging, hands-on class.  Students learn about a principle or concept and then apply it by doing a hands-on project. 'Scientists' record their work in their science journals by describing the experiment, forming a hypothesis, and recording their observations.  Some of the topics they have explored in past classes include: 
Science:  Studying life on the International Space Station, studying bones (including decomposing bones), making volcanoes, slime and elephant toothpaste.
Technology:  Making stop-motion video, learning coding, exploring with Google Glasses and Makey Makey
Engineering:  Making marble mazes, bottle rockets and catapults
Math:  Giant Blokus game and making an abacus and learning how to use it.