/
/
/
Battle Of The Books
Last modified: March 6, 2019
Battle Of The Books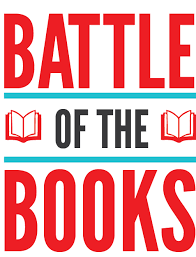 Announcing Battle Of The Books Battle Round III
Monday, March 26th in the library
congratulations to the following teams that have advanced to
Battle Round III
10:35-11:15 5TH GRADE
1ST 196 POINTS – Savage Not Average:

CAPT. Sophia, Claire, Avery, Meadow, Lizzie

2ND 154 POINTS – Dreamers:

CAPT. Toni, Kate, Ava, Renee, Grecia

3RD 123 POINTS – Storm Readers:

CAPT. Cade, Maya, Kiri, Maliyah, Oliver
11:20-12:00 – 6TH Grade
1ST 161 POINTS – Masterminds:

CAPT. Samantha, Sadie, Susannah, Laneah, Zoei

2ND 117 POINTS – Shadows:

CAPT. Presli, Ben, Spencer, Will, Stoney

3RD 111 POINTS – Once Upon A Fairytale:

CAPT. Grace, Faith, Hallie, Meg
2:05-2:45 – 3RD Grade
1ST 110 POINTS – 4 Reading Rascals:

CAPT. Arelle, Abby, Mia, Emma

2ND 106 POINTS – Thunderbolts:

CAPT. Presley, Jono, Jason, Kate, Hyrum

3RD 99 POINTS – Story Stars:

CAPT. Andrew, Sayla, Raiden, Luke
2:50-3:30 4th grade
1st 183 points – guardians of the library:

CAPT. Jared, Jack, Ella, Cayelle, Mo

2nd 157 points – Fantasy Foxes:

CAPT. Ellie, Walter, Hallie, George

3rd 139 points – Night Readers:

CAPT. Linnea, Julinna, Izzy, Maya
Good luck to all teams!!
winners of battle round iii will compete in the battle assembly on Wednesday, march 28 @1:45.
winners of the assembly will advance to the district battle on Wednesday, April 11th.
thank you to all teams that participated in the battle of the books this year!
round 1 battles begin on January 24th and run through January 30th!
Book lists are available in the library.
Take one home so that you can study the book titles and authors!
Remember to tell Mrs. Naylor once you have completed a battle book, so we can mark it down.
Points earned from Battle I and Battle II will be added together to determine winners.
Winners will compete in Battle III to determine a 1st place team per grade level.
Winners of Battle III will compete in Battle IV at an assembly against each other and the teachers teams.
Winners of Battle IV will advance to the DISTRICT BATTLE against winners of other schools.
Prizes will be awarded to the winners of Battle IV.
Each participant will receive a participation surprise.
3/4 Grade Teams
the Queens
the Bookinators
the Bombers
thunderbolts
dream Readers
gold Dragon Slayers
dragon Readers
four Reading Rascals
rainbow Ponies
royal Readers
bo$$
guardians Of The Library
bookasaurus
lord Of The Reads
fantasy Foxes
guardian Of The Books
night Readers
potato
lobster Bisque
girl Trapped
5/6 Grade Teams
galaxy Readers
poisen Pages
goodestest Readers
book Bombers
return Of The Readers
book Eaters
savage Not Average
dreamers
rad Readers
succeeding Reading
storm Readers
radioactive Flying Unicorns
those Random Nerds
deathly Hallows
the Hood
atomic Readers
shadows
masterminds
beasts Of The Books
dora Exploras
once Upon A Fairytale
lit Boys
spacedorks
royal Readers
risc
dabomb.com