/
/
Battle of the Books
Last modified: October 28, 2022
Battle of the Books
This year's Battle of the Books has been cancelled due to the soft closure of all Utah schools. The students worked so hard to be prepared for their Battles and I'm sorry they won't be able to finish off the Battle season this year.
Thank You to everyone that participated!
Next Year's Book Lists will be available soon!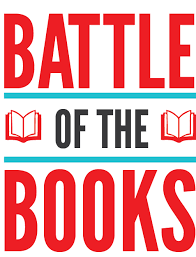 Book lists are available in the library.
Take one home so that you can study the book titles and authors!
Remember to tell Mrs. Naylor once you have completed a battle book, so we can mark it down.
Points earned from Battle I and Battle II will be added together to determine winners.
Winners will compete in Battle III to determine a 1st place team per grade level.
Winners of Battle III will compete in Battle IV at an assembly against each other and the teachers teams.
Winners of Battle IV will advance to the DISTRICT BATTLE against winners of other schools.
Prizes will be awarded to the winners of Battle IV.
Each participant will receive a participation surprise.